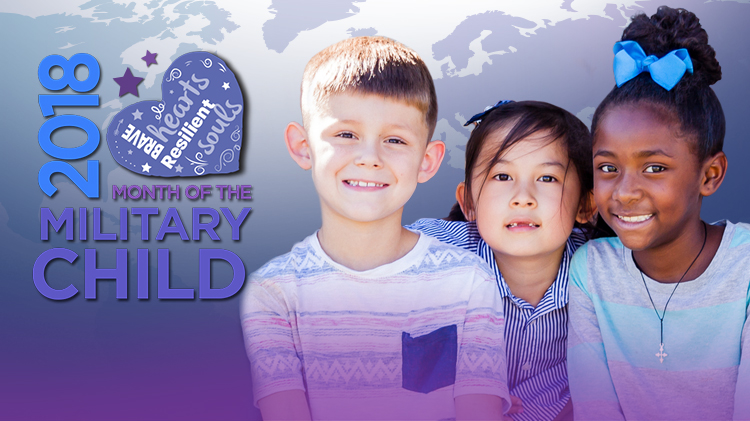 April 2018 Month of the Military Child
Register - Parent Central Services - B224 Arty Street Rose Barracks Google Map
Brave Hearts, Resilient Souls
The Month of the Military Child was established to underscore the important role children play in the Armed Forces community. There are approximately 2 million military children, ranging in ages from newborn to 18 years old; 1.3 million military children are school-aged. Care of military children sustains our fighting force, and strengthens the health, security and safety of our nation's families and communities.
The Army recognizes Month of the Military Child as an opportunity to honor the commitment, contributions and sacrifices of our military children. Army children are committed in their support for their Soldier Family and patriotism. Strong and resilient Army children are essential to the success of the Army's mission. Army children have always been a vital part of the Army's ability to stand strong with the Soldier. Army children are strong, resilient and equipped to adapt to present and future changes.
2018 Young Lives, BIG Stories contest April 1-30
Find out more about the contest and how to enter at www.armymwr.com/momc
Month of the Military Child (MOMC) Opening Ceremony
March 28, 3:30 p.m., Netzaberg School Age Center, B9010
"Show Your Military Child Pride" Coloring Sheets
April 2-14: Pick up coloring sheet at Library
April 16-27: Children will receive a gift for turning in coloring sheet
Stop by at the Rose Barracks Library, B227 or at the Tower Barracks Library B445 and pick-up your coloring sheet.
Spring Break Adventure Camp
April 2-6
Join us for a sneak peak of the coming summer camps. For grades 6-12. Sign up at either Youth Center: Rose Barracks B1706 or Netzaberg B9080
MOMC Kinder Parade
April 6, 12:45-1:30 p.m., Vilseck Elementary School Parking Lot (RB) B2232
Join us for a fun parade around the Rose Barracks Military community.
KinderFest
April 27, 3:30-7:30 p.m., Wild B.O.A.R. Outdoor Recreation (TB) RC600 Featuring adventurous and creative activities, games and giveaways. Free shuttle service, 3-7 p.m. from Tower Barracks Exchange parking lot. Food available for purchase.
Family Day Bowling: Free Bowling for Children Sundays in April, 2-6 p.m.
Celebrate MOMC with free bowling for children at the Bowling Center on Rose Barracks B2201 and on Tower Barracks B612.
Contact
Military DSN Tel:

(314)476-2760/2658/2851