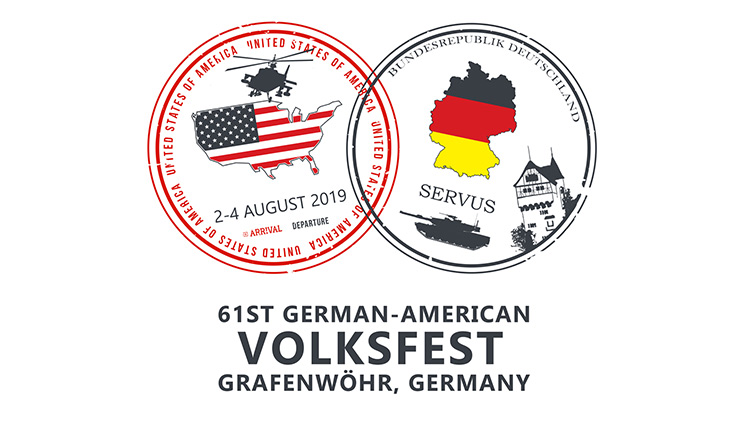 61st Annual Grafenwoehr German/American Volksfest
Date: Aug 2 2019 - Aug 4 2019

The 61st German/American Volksfest is a free community event at Grafenwoehr Camp Kasserine August 2-4. The Volksfest is a family-style festival featuring performances that span country music to 80s pop.
The festival fosters German and American friendship and culture - living, working and celebrating together. Volksfest draws American soldiers, families, civilians, retirees, and Germans living in the surrounding areas of USAG Bavaria. Carnival rides, a beer tent, German and American food, displays of German and American Army equipment, retail booths, a visit from the 501st Legion, Pirates, the Flying Boots, music and dancing are highlights of Volksfest.
Festival Rides

Beer Tents (to include, German, American and craft beer)

Live Bands

Jumping Castle

Face Painting

Great variety of FOOD (American ice cream, veggie burgers, barbeque ribs, pizzas, nachos, hamburgers, steaks, gyros, schnitzels, bratwursts, smoked fish, fried Oreos, funnel cakes, crepes, Chinese, chili, blooming onions and so much more!)

AFN Bavaria Live Broadcast

Military Vehicle Static Displays (both German and American Army) including Historic Military Vehicles

Car and Bike Displays

Gifts & Souvenirs
How much does it cost?
Entrance into the fest is free. Food, beverages and rides are available for sale.
What can I expect?
This is Germany's largest German-American Volksfest. There will be rides, music, face-painting, booths with souvenirs and gift items, food tents, jumpy castles, car and bike displays, and Army static displays.
Merchandise Preview
Don't forget to purchase the 2019 Volksfest beer stein to add to your collection for only $12!