Wild B.O.A.R. Outdoor Recreation
Wild B.O.A.R. - Bavaria Outdoor Adventure & Recreation
| | |
| --- | --- |
| Monday | 11 a.m. - 6 p.m. |
| Tuesday | 11 a.m. - 6 p.m. |
| Wednesday | Closed |
| Thursday | 11 a.m. - 6 p.m. |
| Friday | 11 a.m. - 6 p.m. |
| Saturday | 10 a.m. - 5 p.m. |
| Sunday | 10 a.m. - 5 p.m. |
| Federal Holidays | Closed |
Contact
RC600 Tank Road
Tower Barracks
Tel:
+49 (0)9641-83-8529
Military DSN Tel:
(314)475-8529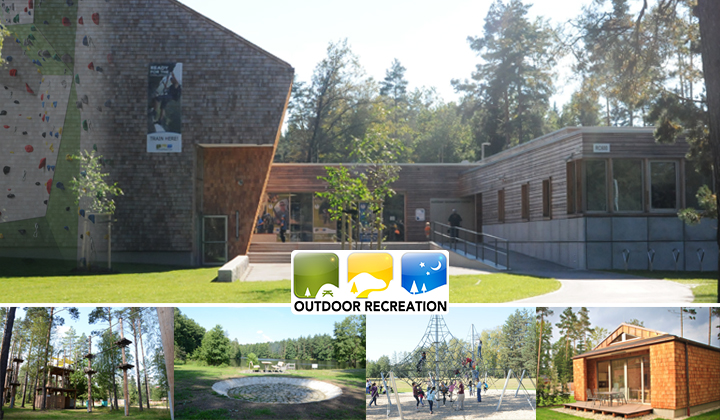 Welcome to the Wild B.O.A.R. Outdoor Recreation Complex
Located on the beautiful Dickhaeuter Lake, the complex offers a multitude of
opportunities to include a climbing hall, high ropes course, campgrounds, cabins,
hunting and fishing, skeet and trap, equipment checkout, conference and multipurpose
rooms as well as trips to various European destinations.


Explore history, culture, adventure, sightseeing and shopping with us.
Outdoor Recreation provides a broad variety of programs. Highlights include:
White-water rafting
Skiing/snowboarding
Skydiving
Paintball
Hiking
Mountain Biking
Rock Climbing & Klettersteig
Fishing
Day Trips and Overnight trips to numerous European destinations
Cultural events and festivals
Theme parks
Shooting Ranges (Skeet, Pistol, Archery, Rifle)
Caving
and more
Build endurance and strength with Indoor Climbing
Climbing is considered to be one of the most innovative physical activities available. Your mind will benefit from problem solving while your body will build endurance and strength. The Climbing Hall is a place to build trust, camaraderie, and self confidence. With indoor climbing you will get a sense of accomplishment with your workout. Along with improving yourself physically, you can challenge yourself mentally and even benefit socially. We offer bouldering, top rope climbing, lead climbing, and certification classes - the Climbing Hall is the perfect place to train for the challenging climbing of Bavaria.
Challenge yourself or your team on the High Ropes Course
The high ropes course is a two-part course, east of the main camp site, with an 11-meter-high area designed for Soldiers' training only. The second area or public area contains three levels of ropes ranging from 4 to 9 meters high. Once harnessed participants will be able to swing, ascend, traverse and balance their way across obstacles. At the end of the ropes challenge course there are five zip lines for participants to descend. 
Equipment Checkout available for most outdoor activities:
Biking
Camping
Scuba diving
Canoeing and kayaking
Summer and Winter sports
Skiing/snowboarding
Reserve Wild B.O.A.R. Outdoor Recreation for your special event.  Don't forget to reserve your event equipment:
BBQ grills
Pavilions
Fire Pits
Stop by and talk to one of our professional staff about outdoor adventures you are interested in. We offer a variety of programs and services that will build, maintain and strengthen the readiness and resiliency of our Soldiers, Families and Civilians.
Sign up online through MWR Online Services

Please see below the Wild B.O.A.R. Outdoor Guide for prices and services we offer.
Information and Policies

­Our services are available to ID cardholders and invited guests which need to be on the access roster.
­Our trips may require walking. Please wear comfortable shoes.
­Please ask for details before booking the trip. Let us know in advance if a member of your party has special needs.
­The Tours trip assistants are required to ask for your passport before boarding the bus.
­Keep receipts of your purchases abroad for Customs officers checking.
­Keep some cash with you at all times as ATM machines are not available everywhere in Europe.




One Day Trip Refund Policy

Cancellation up to three working days prior to trip: 100% refund
­Cancellation two working days prior to trip: 50% refund
­Cancellation one working day prior to, or day of trip: No refund




Overnight Trip Refund Policy

Please bring your original receipt.
­No Refund for no shows.
­Deposit: $100 upon enrollment (administrative fee).
­30 days prior to departure: 25% down payment, not refundable due to hotel booking policies.
­14 days prior to departure: 50% down payment, not refundable due to hotel booking policies
­Remaining balance is due two working days prior to the trip's departure unless otherwise indicated.
­Cancellation up to 31 days prior to departure: full refund, unless otherwise indicated (i.e. hotel's cancellation policy). The $100 deposit is nonrefundable unless the cancellation reason is sustained by document signed by commander, or by a physician.

Frequently Asked Questions

What equipment is available for rental?
Refer to our summer and winter pricelists for our rental equipment that we provide.


What are the rates for equipment rentals?
Refer to our summer and winter pricelists for our rental equipment that we provide.


How do I sign up for a tour or event?
To sign up for a tour or event you can do so in person at Wild B.O.A.R. Outdoor Recreation (RC600 Tank Road Tower Barracks), or by phone (09641-83-8529), or using the MWR online services Webtrac system.


Where can I get my bike repaired?
At Wild B.O.A.R. Outdoor Recreation (RC600 Tank Road Tower Barracks) We have full service ski & snowboard maintenance/tuning and a full service bicycle repair shop. *Prices vary, depending on services required.


Who is eligible to go on Outdoor Recreation tours/events?
­Our services are available to ID cardholders and invited guests which need to be on the access roster.


How can I see upcoming trips for the next six months?
Refer to the www.bavaria.armymwr.com website and also check out our summer 2016 passport.


How do I reserve a pavilion/canopy?
To reserve a pavilion/canopy, you can do so in person at Wild B.O.A.R. Outdoor Recreation (RC600 Tank Road, Tower Barracks) or by phone (09641-83-8529).


How early should I reserve equipment/bus/venue?
With reserving equipment/shuttle bus/venue, it is always best to reserve as soon as possible. When you have a date in mind please come in to Wild B.O.A.R. Outdoor Recreation or call and our front desk staff will assist you with your reservations.


Are there driving directions available? Yes.
Tower Barracks: Exit Tower Barracks from Gate 9 (near the Automotive Skills Center/Fire Station). Make a right at the traffic light onto North Tank Road. Drive about a half a mile down. You will see the entrance to the complex on the left hand side.
Rose Barracks: Exit Rose Barracks from the back gate onto One Community Road. Follow the road until you come to Gate 4 (Tranzfleck) and make a left. Continue on that road until you reach the traffic light and make a left onto North Tank Road. Drive about a half mile down. You will see the complex on the left hand side.


Do you offer lessons (Skiing, snowboarding, canoeing/kayaking)?
Yes, we offer Skiing and Snowboarding lessons on select winter ski/snowboard trips through Wild B.O.A.R. Outdoor Recreation. At this time we do not offer any lessons for canoeing/kayaking.


What are the cancellation policies for trips?
One Day Trip Refund Policy


Cancellation up to three working days prior to trip: 100% refund
Cancellation two working days prior to trip: 50% refund
Cancellation one working day prior to, or day of trip: No refund

Overnight Trip Refund Policy


A deposit of $100 per child and/or $150 per adult is required upon enrollment.
30 days prior to the trip's departure date: A minimum of 50% of the trip cost is required. At this time the deposit is not refundable due to our contractual obligations with the hotels and other agencies.
14 days prior to the trip's departure date: The remaining balance of the trip cost is required.
Cancellation up to 31 days prior to the trip's departure date: A full refund will be received unless otherwise indicated.
Cancellation from 30 days to the trip's departure date: The amount refunded depends on the specific hotel's cancellation policy. The administration fee of $150 deposit per adult will not be refunded, unless the cancellation reason is supported by documentation that is signed by a commanding officer or physician. Customers will only receive refunds if their balance paid exceeds the obligation to our contractors. Only the fees paid exceeding our costs will be refunded.
Soldiers should have leave forms approved prior to the 30 day cancellation date.
If our Outdoor Recreation (ODR) staff cancels the trip, all customers providing their original registration receipt will receive a full refund.
We reserve the right to forfeit any reservation that does not pay the balances due at the specified times prior to the trip's departure date as stated above. Passports are required for all trips leaving Germany, however, for customers in possession of a passport other than U.S. or European, special considerations must be observed. It is the responsibility of the individual customer to ensure they have all appropriate Visas necessary for entry to countries traveled by Leisure Travel Services during the trip. For a listing of travel advisories, please consult the country of destination for restrictions.

Can I transfer my trip ticket to another person if I booked a trip and now cannot go on it?
Unfortunately, transferring a ticket to another person for one of our trips is not possible due to force protection measures.  


If a trip is cancelled for any reason, will I get refunded/will the trip be rescheduled?
If any of our trips are cancelled on our behalf you will receive a full refund for the trip. If you have any more questions or would like more information please email us at:

[email protected]