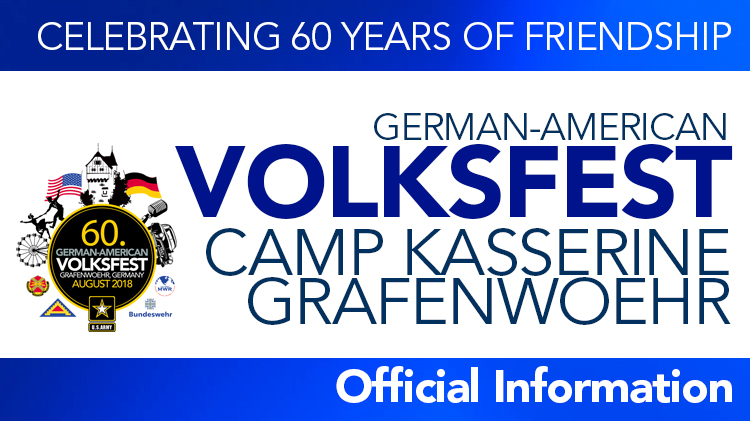 60th Annual Grafenwoehr German American Volksfest
Date: Aug 3 2018 - Aug 5 2018
The 60th German-American Volksfest is a free community event at Grafenwoehr Camp Kasserine August 3-5. The Volksfest is a family-style festival featuring performances that span country music to 80s pop presented by Army Entertainment and Armed Forces Entertainment. The festival fosters German and American friendship and culture - living, working and celebrating together. Volksfest draws American soldiers, families, civilians, retirees, and Germans living in the surrounding areas of USAG Bavaria. Carnival rides, a beer tent, German and American food, displays of German and American Army equipment, retail booths, a visit from the 501st Legion, Pirates, the Flying Boots, music and dancing are highlights of Volksfest.
Festival Rides

Beer Tents (to include, German, American and craft beer)

Live Bands

Jumping Castle

Face Painting

Great variety of FOOD (American ice cream, veggie burgers, barbeque ribs, pizzas, nachos, hamburgers, steaks, gyros, schnitzels, bratwursts, smoked fish, fried Oreos, funnel cakes, crepes, Chinese, chili, blooming onions and so much more!)

AFN Bavaria Live Broadcast on Friday

Military Vehicle Static Displays (both German and American Army) including Historic Military Vehicles

Car and Bike Displays

Gifts & Souvenirs
Entertainment Info
American Bands (MWR Tent)
Friday
11 a.m. - 7 p.m.: DJ Tim Brown Music & Karaoke
9-10:45 p.m.: Darryl Worley
Saturday
11 a.m. - 7 p.m.: DJ Tim Brown Music & Karaoke
7-10:45 p.m.: Liquid Blue Cover Band (Hits throughout the decades)
Sunday
11 a.m. - 5 p.m.: DJ Tim Brown Music & Karaoke
5-8:45 p.m.: Liquid Blue Cover Band
German Bands
Friday
11 a.m. - 2 p.m.: Ehenbachtaler
6 p.m. - midnight: Pressather Musikanten
Saturday
11:30 a.m. - 5 p.m.: Stadtkapelle Kemnath
7-midnight.: Donnervogel – Straubing
Sunday
noon - 9 p.m.: Blaskapelle Diessfurt
Registration Info
When is it open?
The Volksfest is open from 11 a.m. - 1 a.m. Friday, August 3 and Saturday, August 4, and 11 a.m. - midnight on Sunday, August 5.
How much does it cost?
Entrance into the fest is free. Food, beverages and rides are available for sale.
What can I expect?
This is Germany's largest German-American Volksfest. There will be rides, music, face-painting, booths with souvenirs and gift items, food tents, jumpy castles, car and bike displays, and Army static displays.
Will there be discounted rides again this year?
Yes, reduced fares at all rides will be available during family day, Friday, August 3 from 11 a.m. - 7 p.m.
How do I get there?
All gates are open to ID cardholders. The main entrance to the Volksfest, however, is through Gate 6 on B-299 across from the Gründerzentrum Grafenwöhr. Non-DoD cardholders must enter through Gate 6. The only exit is through Gate 4 at Tanzfleck. When entering Gate 6, follow the signs to the parking areas. During the weekend, all traffic between Tower and Rose Barracks must use B299 unless drivers have a fest pass, which allows access to Chancellorsville Road (between Gate 9/near the AAFES Express gas station and Gate 4 at Tanzfleck). For example, if you do drive in from Eschenbach, you must enter Gate 6 and exit Gate 4 (Tanzfleck).
We highly recommend that DoD cardholders park on-post and take the garrison shuttle to avoid traffic. The garrison shuttle is for DoD ID cardholders only. The garrison shuttle runs from the Grafenwoehr and Vilseck AAFES Exchanges every 15-30 minutes from 5 p.m. - 1 a.m. on Friday, August 3; 11 a.m. - 1:30 a.m. on Saturday, August 4; and 11 a.m. - 12:30 a.m. on Sunday, August 5.

Who can ride the garrison shuttle during the Volksfest?

The USAG Bavaria garrison shuttle will operate during the Volksfest. Only DoD ID cardholders are authorized to ride the garrison shuttle. Local National employees with valid installation passes are also authorized to ride the garrison shuttle. The garrison shuttle schedule is available at www.bavaria.army.mil/transportation. Expect limited garrison shuttle service during the Volksfest. The R-1, R-2 and the R-5 will stop at noon Friday, Aug. 3. The R-6 is will not operate Saturday, Aug. 4.
Can I use public transportation to get there?

Yes, public buses run every 15 – 30 minutes to take visitors from the parking areas downtown to the fest grounds. On Friday and Saturday, the bus will run from 11 a.m. - 1:30 a.m.; on Sunday, the bus will run from 11 a.m. - 12:30 a.m. Public bus stops are located near the outdoor swimming pool at Waldbad (Am Waldbad, 92655 Grafenwoehr), on Marienplatz in front of the town hall (Marienplatz, 92655 Grafenwoehr), at the German post office (Alte Amberger Strasse 28, 92655 Grafenwoehr) and at the Gründerzentrum on B-299 (Am Gruenderzentrum, 92655 Grafenwoehr). Bus fee is €2 roundtrip. You will have to show your IDs prior to entering bus. All bags will be searched before boarding the bus.
My friends are not affiliated with the DOD. Can I bring them?
Yes, but enter through the main entrance at Gate 6. All non-DOD ID cardholders over the age of 16 must have an official ID such as a Personalausweiss or Reisepass to enter. A driver's license is not enough.
What types of items are PROHIBITED from the fest?
Prohibited items include: back packs, large bags, alcohol and any outside beverage/container, Coolers, water guns, weapons and any items that may cause bodily harm as determined by law enforcement.
Can I bring my pet?
Yes, but you must have your pet on a leash. Also, be advised that there will be large crowds and lots of noise. The Volksfest may not be in the best interest of your pet.
What kind of food will be available for sale?
Food and beverages include American ice cream, BBQ ribs, tacos, nachos, chili, corn-on-the-cob, BBQ chicken, hot dogs, hamburgers, steaks, baked potatoes, gyros, smoked fish, Chinese food, bratwurst and Bavarian Schweinehaxen.
Can I bring my own beer?
You are prohibited from bringing your own alcohol, food, coolers, backpacks, large bags and pouches. Food and beer will be available for sale.
Will there be a military equipment display again this year?
Yes, static German and American military vehicles and equipment will be on display during the entire Volksfest.
Will there be live bands?
Yes. See above for the schedule.