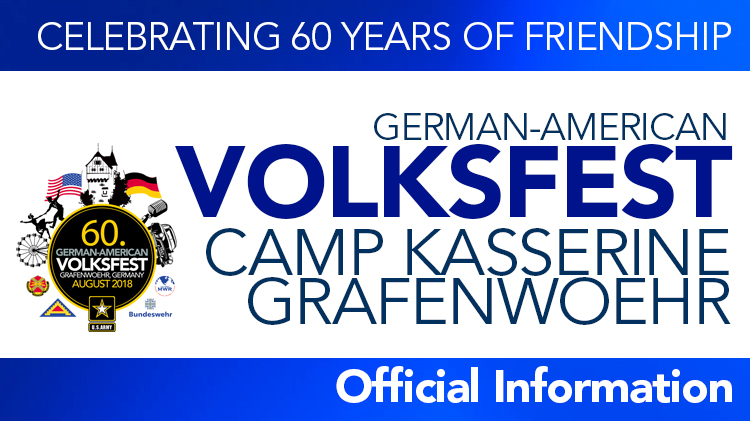 60th Annual Grafenwoehr German American Volksfest
Note: This event has already passed.
Date: Aug 3 2018 - Aug 5 2018

The 60th German-American Volksfest is a free community event at Grafenwoehr Camp Kasserine August 3-5. The Volksfest is a family-style festival featuring performances that span country music to 80s pop presented by Army Entertainment and Armed Forces Entertainment. The festival fosters German and American friendship and culture - living, working and celebrating together. Volksfest draws American soldiers, families, civilians, retirees, and Germans living in the surrounding areas of USAG Bavaria. Carnival rides, a beer tent, German and American food, displays of German and American Army equipment, retail booths, a visit from the 501st Legion, Pirates, the Flying Boots, music and dancing are highlights of Volksfest.
Festival Rides

Beer Tents (to include, German, American and craft beer)

Live Bands

Jumping Castle

Face Painting

Great variety of FOOD (American ice cream, veggie burgers, barbeque ribs, pizzas, nachos, hamburgers, steaks, gyros, schnitzels, bratwursts, smoked fish, fried Oreos, funnel cakes, crepes, Chinese, chili, blooming onions and so much more!)

AFN Bavaria Live Broadcast on Friday

Military Vehicle Static Displays (both German and American Army) including Historic Military Vehicles

Car and Bike Displays

Gifts & Souvenirs
Entertainment Info
American Bands (MWR Tent)
Friday
11 a.m. - 7 p.m.: DJ Tim Brown Music & Karaoke
9-10:45 p.m.: Darryl Worley
Saturday
11 a.m. - 7 p.m.: DJ Tim Brown Music & Karaoke
7-10:45 p.m.: Liquid Blue Cover Band (Hits throughout the decades)
Sunday
11 a.m. - 5 p.m.: DJ Tim Brown Music & Karaoke
5-8:45 p.m.: Liquid Blue Cover Band
German Bands
Friday
11 a.m. - 2 p.m.: Ehenbachtaler
6 p.m. - midnight: Pressather Musikanten
Saturday
11:30 a.m. - 5 p.m.: Stadtkapelle Kemnath
7-midnight.: Donnervogel – Straubing
Sunday
noon - 9 p.m.: Blaskapelle Diessfurt
And don't forget our annual Lederhosen & Dirndl Contest!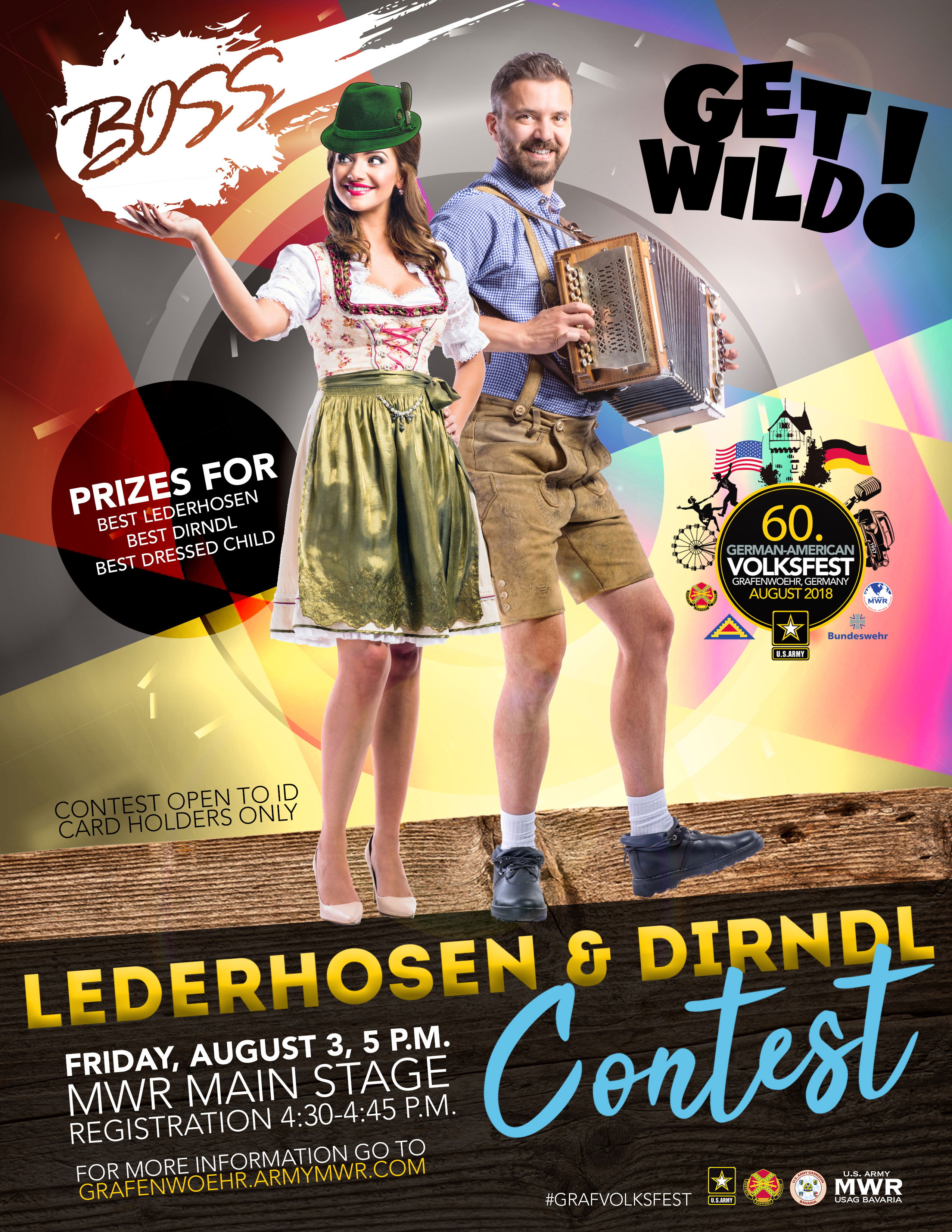 Best Photo Contest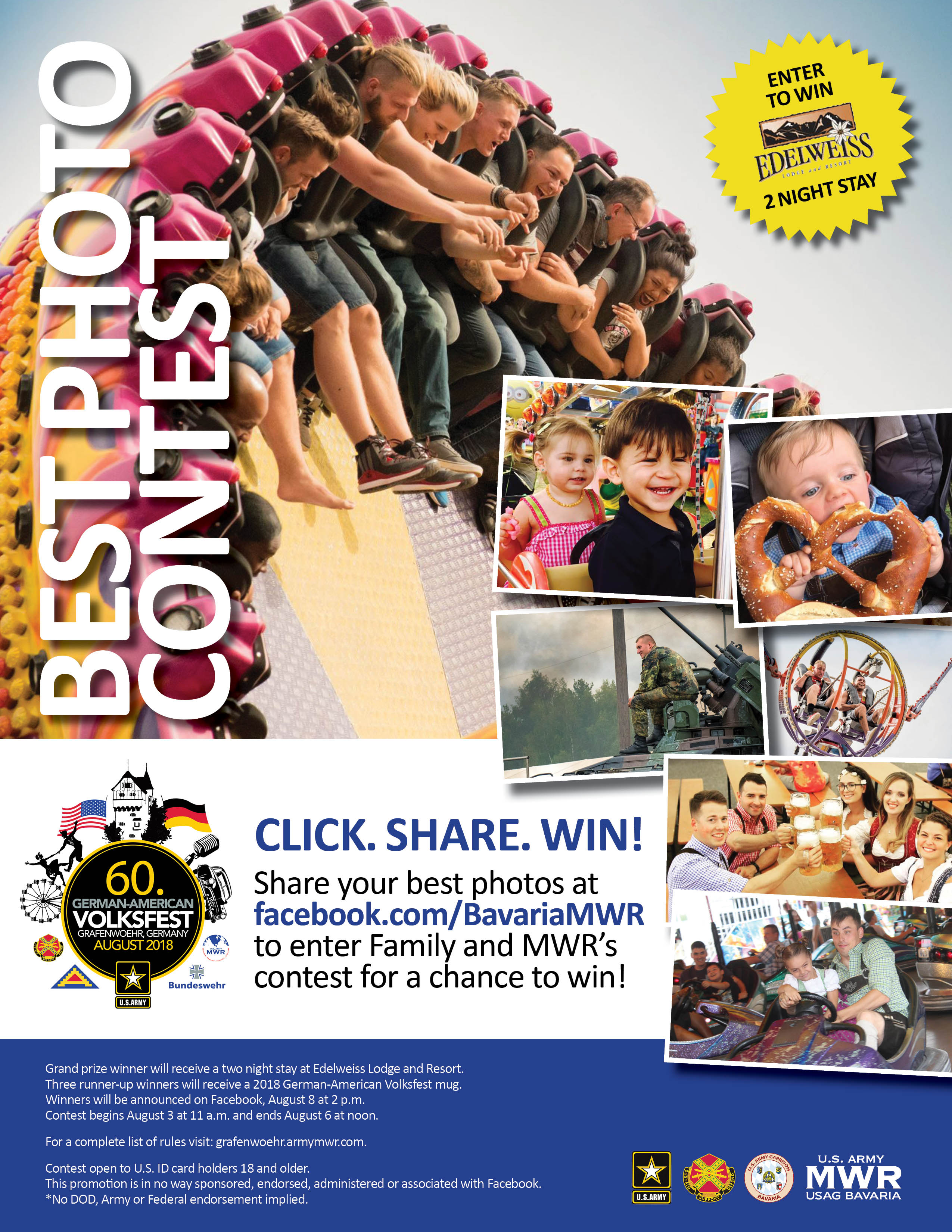 Registration Info
When is it open?
The Volksfest is open from 11 a.m. - 1 a.m. Friday, August 3 and Saturday, August 4, and 11 a.m. - midnight on Sunday, August 5.
How much does it cost?
Entrance into the fest is free. Food, beverages and rides are available for sale.
What can I expect?
This is Germany's largest German-American Volksfest. There will be rides, music, face-painting, booths with souvenirs and gift items, food tents, jumpy castles, car and bike displays, and Army static displays.
Will there be discounted rides again this year?
Yes, reduced fares at all rides will be available during family day, Friday, August 3 from 11 a.m. - 7 p.m.
How do I get there?
All gates are open to ID cardholders. The main entrance to the Volksfest, however, is through Gate 6 on B-299 across from the Gründerzentrum Grafenwöhr. Non-DoD cardholders must enter through Gate 6. The only exit is through Gate 4 at Tanzfleck. When entering Gate 6, follow the signs to the parking areas. During the weekend, all traffic between Tower and Rose Barracks must use B299 unless drivers have a fest pass, which allows access to Chancellorsville Road (between Gate 9/near the AAFES Express gas station and Gate 4 at Tanzfleck). For example, if you do drive in from Eschenbach, you must enter Gate 6 and exit Gate 4 (Tanzfleck).
We highly recommend that DoD cardholders park on-post and take the garrison shuttle to avoid traffic. The garrison shuttle runs from the Grafenwoehr and Vilseck AAFES Exchanges every 15-30 minutes from 11 a.m. - 1:30 a.m. on Friday, August 3, and Saturday, August 4; and 11 a.m. - 12:30 a.m. on Sunday, August 5.

Who can ride the garrison shuttle during the Volksfest?

The USAG Bavaria garrison shuttle will operate during the Volksfest. Only DoD ID cardholders are authorized to ride the garrison shuttle. Local National employees with valid installation passes are also authorized to ride the garrison shuttle. The garrison shuttle schedule is available at www.bavaria.army.mil/transportation. Expect limited garrison shuttle service during the Volksfest. The R-1, R-2 and the R-5 will stop at noon Friday, Aug. 3. The R-6 is will not operate Saturday, Aug. 4.
Can I use public transportation to get there?

Yes, public buses run every 15 – 30 minutes to take visitors from the parking areas downtown to the fest grounds. On Friday and Saturday, the bus will run from 11 a.m. - 1:30 a.m.; on Sunday, the bus will run from 11 a.m. - 12:30 a.m. Public bus stops are located near the outdoor swimming pool at Waldbad (Am Waldbad, 92655 Grafenwoehr), on Marienplatz in front of the town hall (Marienplatz, 92655 Grafenwoehr), at the German post office (Alte Amberger Strasse 28, 92655 Grafenwoehr) and at the Gründerzentrum on B-299 (Am Gruenderzentrum, 92655 Grafenwoehr). Bus fee is €2 roundtrip. You will have to show your IDs prior to entering bus. All bags will be searched before boarding the bus.
My friends are not affiliated with the DOD. Can I bring them?
Yes, but enter through the main entrance at Gate 6. All non-DOD ID cardholders over the age of 16 must have an official ID such as a Personalausweiss or Reisepass to enter. A driver's license is not enough.
What types of items are PROHIBITED from the fest?
Prohibited items include: back packs, large bags, alcohol and any outside beverage/container, Coolers, water guns, weapons and any items that may cause bodily harm as determined by law enforcement.
Can I bring my pet?
Yes, but you must have your pet on a leash. Also, be advised that there will be large crowds and lots of noise. The Volksfest may not be in the best interest of your pet.
What kind of food will be available for sale?
Food and beverages include American ice cream, BBQ ribs, tacos, nachos, chili, corn-on-the-cob, BBQ chicken, hot dogs, hamburgers, steaks, baked potatoes, gyros, smoked fish, Chinese food, bratwurst and Bavarian Schweinehaxen.
Can I bring my own beer?
You are prohibited from bringing your own alcohol, food, coolers, backpacks, large bags and pouches. Food and beer will be available for sale.
Will there be a military equipment display again this year?
Yes, static German and American military vehicles and equipment will be on display during the entire Volksfest.
Will there be live bands?
Yes. See above for the schedule.
Merchandise Preview
Don't forget to purchase the 2018 Volksfest beer stein to add to your collection for only $12!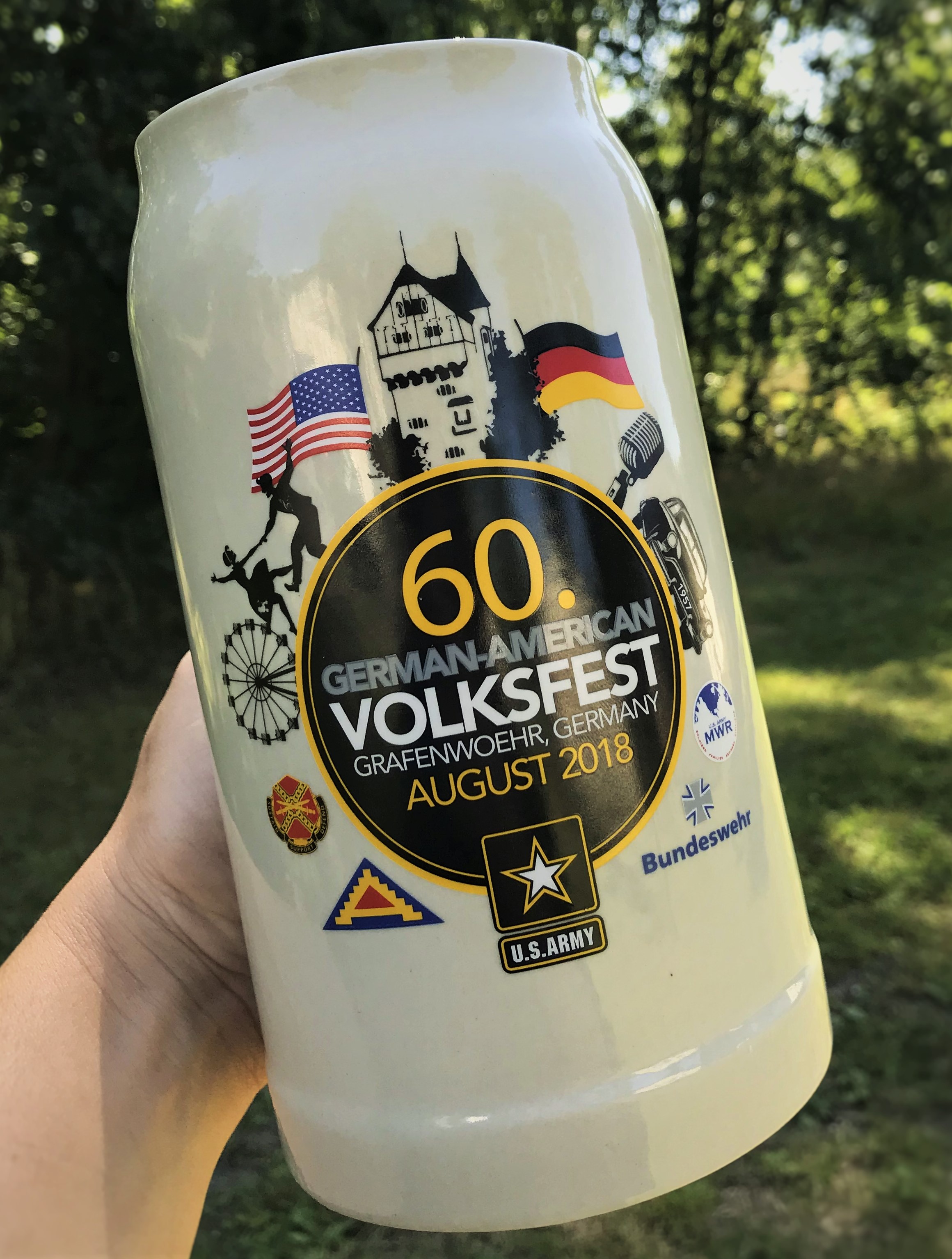 Darryl Worley
Country music artist Darryl Worley's six albums have produced 18 singles on
the Billboard Hot Country Songs charts, including three Number Ones: "I Miss
My Friend", "Have You Forgotten?", and "Awful, Beautiful Life", from 2002,
2003 and 2004–2005, respectively. "Have You Forgotten?" spent seven weeks at
Number One. Nine other singles have reached the Top 40. This is Worley's fifth
tour with Armed Forces Entertainment since 2013.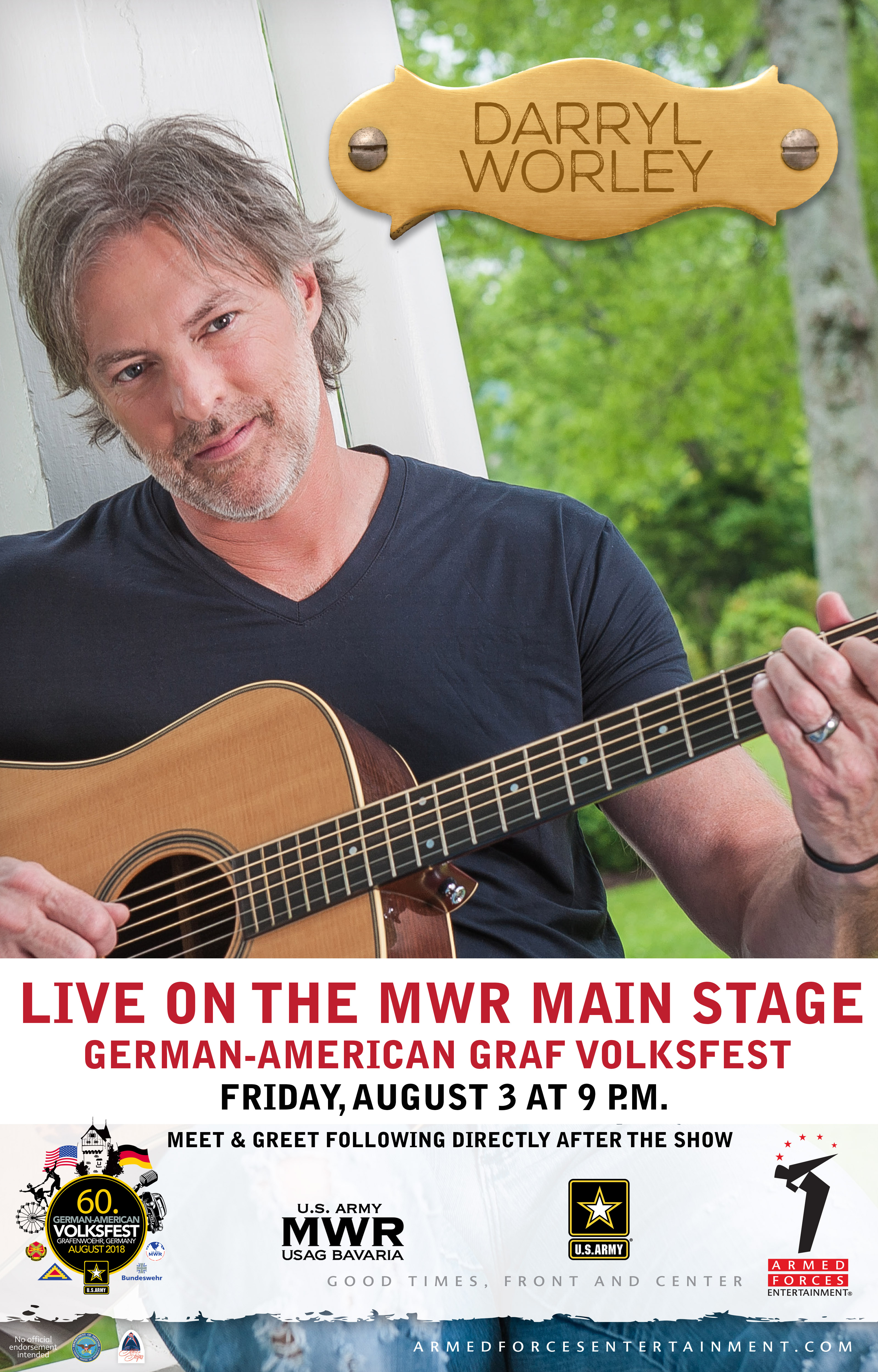 The rich, reedy tones and all-American, blue-collar themes in his #1 hits "I
Miss My Friend," "Awful, Beautiful Life" and "Have You Forgotten?" are
reminders of the down-to-Earth, Haggard-like Darryl Worley you always knew.
The island vibes and blue-eyed soul in new songs "It's Good To Be Me," "Lay It
On Me" and "Lonely Alone" suggest there's another, almost-funky, version of
Worley that's been kept under wraps. The alternate sides are both on display
in Second Wind: Latest and Greatest, a project that mixes the
traditional-country history he established in Nashville with the ragged soul
that's deep in the bones of Muscle Shoals, a musical Alabama hotbed where
Worley got his start. The area hosted hit sessions for Aretha Franklin, Bob
Seger, Wilson Pickett and The Rolling Stones, and the sweaty swagger of the
region's recording studios was a perfect fit for Worley as he recorded an
album that re-establishes him in country culture.
Second Wind is aptly titled, since it's the first full-length album released
by Worley in eight years, following a self-imposed layoff from recording.
Worley's wife, Kimberly, gave birth to a girl in 2008, and the weight of the
father-daughter relationship was greater than anything he'd anticipated. He
cut back on his touring and limited his studio work to small, focused
releases, including an EP that was targeted to his passionate military
supporters. He made daughter Savannah his top priority. That was an easy
decision, but it dredged up uncertainty about what that might mean for his
music career.
Born and raised in southern Tennessee by a Methodist minister and a
church-choir mom he describes as a "prayer warrior," Worley started his
musical career at the FAME Studio in Muscle Shoals, under the tutelage of
producer/publisher Rick Hall (Mac Davis, Jerry Reed), where he remained for a
solid five years. He played clubs almost nightly, honing his stage craft at
the same time he was woodshedding his songwriting skills, and as Worley gained
confidence, he found his way to Nashville. There, he secured a recording deal
in 1999 on the basis of some demo recordings that showcased his authoritative
vocals and his understanding of the hard-working country audience.
He discovered, however, that the music business didn't share the depth of his
passion for that old-school sound. Numerous voices in Nashville were pushing
him to sing more contemporary songs and to co-write more often with well-known
composers. The songs from the demo that got him signed were tossed in favor of
other material that may have fit the trends, but didn't quite suit him. So
Worley put his foot down.
"No" proved to be a powerful word. The powers that be came after him, relented
on their creative demands and – lo and behold – several of those songs from
the demo ended up becoming his first hits. His inaugural album landed three
Top 20 titles – "When You Need My Love," "A Good Day To Run" and "Second
Wind" – and his second album's namesake, "I Miss My Friend," brought his first
#1 single.
A USO trip would provide a blockbuster. Worley visited Kuwait and Afghanistan
during the Christmas season of 2002, and he was inspired by the dedication and
sacrifice of soldiers who put their lives on the line for their beliefs.
Shortly after his return, he co-wrote "Have You Forgotten?" with Wynn Varble
practically demanding that America keep its focus in its battle against
terrorists. The song spent seven weeks at #1 on the Billboard country singles
chart, one of only five titles to reign that long during the 21st century's
first decade.
That key period in Worley's career impacted his sense of community and the
role that music can play in bolstering the mindset of his audience. He's
continued to perform for troops since that initial trip, going on more than 15
USO tours, sometimes losing money in the process to show his appreciation to
his fellow patriots. Additionally, he established the Tennessee River Run, an
annual multi-day event in Savannah, Tennessee, that brings in money for the
Darryl Worley Cancer Treatment Center, a facility that offers assistance in a
region that was previously unserved. He's enlisted friends such as Ronnie
Milsap, Tracy Lawrence, Lee Brice, Craig Morgan, Diamond Rio and Charlie
Daniels to play the River Run through the years, typically raising more than
$100,000 annually for local charities.
Worley has clearly made a difference in his neighborhood, using his celebrity
to improve the lives of the people around him. It's the same goal he's applied
to his music, whether it's honoring soldiers in "Have You Forgotten?" seeking
positivity in "Awful, Beautiful Life" or celebrating responsibility in "Family
Tree." Those messages are all present in the Greatest portion of Second Wind,
and the Latest songs continue the pattern. "It's Good To Be Me" locates the
elusive silver lining in life, "Runnin'" finds meaning in obsessive activity
and "Lonely Alone" encourages honesty in times of personal hardship.
In the end, Second Wind signals Worley's return to the national stage after a
period of recommitment in his home life. The new music puts an unexpected
sonic spin on a familiar voice while reaffirming the uplifting intent that
continues unabated throughout his entire body of material. Worley's always
been prepared to walk away if the songs didn't make a difference, and Second
Wind is an apt summation of the values and authenticity that have driven his
entire career.